Crone races past own school record
Runners on pace for district at McNeil Invitational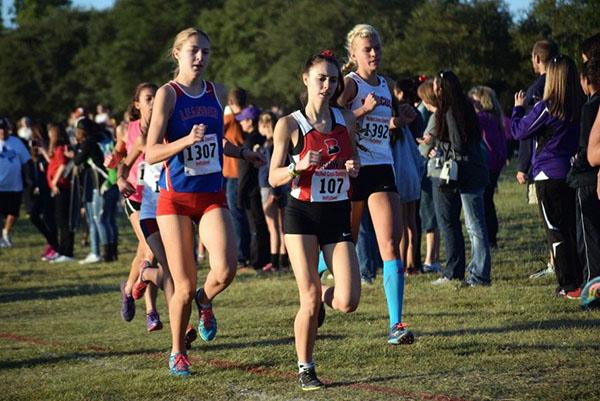 The McNeil Invitational is one of the largest cross country meets of the year. For the varsity team, runners competed in the gold race and the 5A race. Senior Claire Crone placed 23rd in the gold race and broke the school's record as well as her own personal one. Senior Rob Coe also ran the gold race. The school record was 18:51 and Crone ran 18:17.
"It was very exciting," Crone said. "I didn't expect running that fast. I was looking up as I crossed the finish line so I could see my time."
In the 5A race, junior Kami Taylor placed 17th with a time of 20:17. Junior Kim Parada placed 23rd with a time of 20:31, freshman Sydney Brinkman placed 25th with a time of 20:39, sophomore Caroline Crone placed 27th with a time of 20:42, freshman Georgina Ceka placed 45th with a time of 21:17, and junior Richelle Vossler placed 102nd with a time of 22:30.
"Running the race felt good," Parada said. "The workouts we did that week really helped and made the hills in the run a lot more easy."
The boys on varsity earned new personal records in their race, Coe with a personal record of 16:22 and Justin Campbell with new a personal record of 17:01.
"At McNeil, I was trying to drive towards my goals," Coe said. "Make progress and definitely bring up to the surface a more competitive and better side of me."
Cross country will be running in District on Friday, Oct.16. Varsity and JV will be running, but JV will not advance if they place.