The girls to catch
Girls cross country teams win at Tri-meet 3×1 mile relay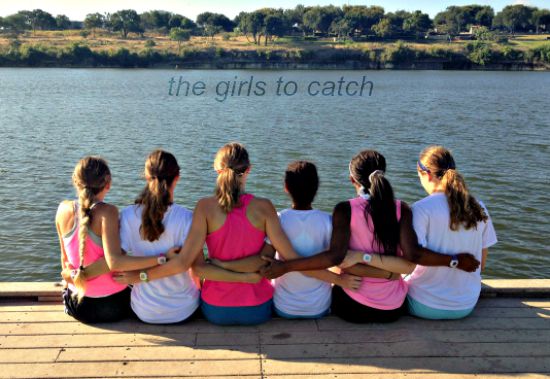 Cross country's previous season ended in fourth place as a team in district, but they have started out this school year with a comeback. Team KFC, named for the first letter in the team members names, was made up of junior Kami Taylor and seniors Funmi Orekoya and Claire Crone. The team won 1st place in the Tri-meet 3×1 mile relay held at Brushy Creek Park.  
"This season just started and race wise we've only had one," Orekoya said. "Winning the girls [varsity] group with our KFC team was pretty cool."
Crone had the fastest time, clocking her finish at 5:15. Her teammate Orekoya had a time of 5:25 and Taylor at 5:37.
"
"Winning the girls [varsity] group with our KFC team was pretty cool.""
— Senior Funmi Orekoya
"I have the worst nerves before races but once I get running I'm fine," Crone said. "I was thinking that I couldn't let my team down and that I had to do this for myself as well. For confidence. I knew I could do it and I had to race smart. I'm so competitive and I had a girl to catch. Once I'm ahead in a race I make sure I stay ahead. Once again it all came back to Kami and Funmi and the others."
Juniors Kim Parada and Richelle Vossler and sophomore Caroline Crone placed fourth. After the relay, both teams had a bonding trip at Crone's grandparent's house.
"These girls especially [in addition to others] love each other to death," Claire Crone said. "We took a couple of fun pictures together by the lake and after everything was over we all went to my grandparents house for team bonding."
The cross country team will be having its first official meet on Saturday at Haley Nelson Park in Burnet.