Lions taken down by Lehman
Freshmen teams take a loss to the Lobos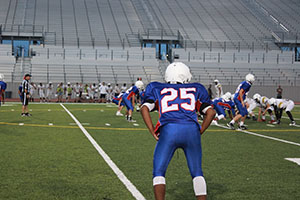 The Lions played the Lehman Lobos on Thursday, November 3 at McCallum Stadium. The red team lost 2- 6 and the blue team ended the game with a score of 7-28.
"We were missing many of our players," red team outside linebacker Britton Webber said. "We didn't play our best the first half either."
According to Webber, the Lions missed a considerable amount of touchdowns due to unnecessary penalties.
"We could've blocked better for our quarterback," Webber said. "It would've helped him, and the running backs a lot."
Blue team defensive lineman Jedidiah Acevedo got a safety by tackling the Lehman's quarterback in their endzone during the second quarter.
"We thought we were going to score a lot more after that safety," Webber said. "It was a 50/50 chance when it came down to us winning."
Many players from both teams have been out due to injury and grades in the past two weeks.
"
I feel like overall this season we learned a lot about what kinds of players we are.We plan to make big improvements during off season."
— Ralph Hernandez
This was the last game of the season for the freshmen lions. The Lions ended the season 4-6.
Lions lose to Westlake
The freshmen teams played the Westlake Chaps on Thursday, October 27. The blue team ended with a final score of 0-39 and the red team lost 0-21.
"We play really hard each game," blue team nose guard Ralph Hernandez said. "We were expecting it to be a tough game, so we weren't too upset when we lost."
Hernandez and his teammates look up to their coaches for guidance when they are having trouble during practice.
"Our coaches give us really good advice," Hernandez said. "It's more on our part where we need to actually use the advice they give us."
According to red team safety Jacob Garcia, the team needs to work on being more focused during practice.
"We mess around a lot in practice," Jacob Garcia said. "It's only when we are actually in the game is when we start to be serious."
Both teams feel ready for their next game against the Lehman Lobos.
"I think we're more prepared for this game," Hernandez said. "We know what we have to do and we're going to try to do it."