Girl's Basketball: Halfway Through The Season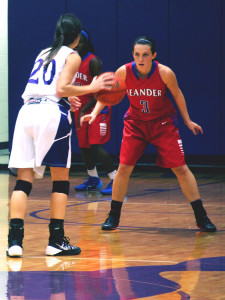 The Lady Lion Basketball team is off to a fabulous season halfway through district with four wins against Marble Falls, Vandergrift, Vista Ridge, and Dripping Springs. And only two losses to rivals Cedar Park and Rouse.
  All of the practice and hard work of the preseason paid off for the team. The girls were able to open up the district round with an outstanding win against the Marble Falls Lady Mustangs. The team was able to showcase their ability to perform a solid defense. Their style of play was both aggressive and physical. The Lady Lions came out on top with scoring 40 points over the Lady Mustangs. Leading scorer was junior, Alisa Greene.
   "We have learned to communicate with each other on and off the court," said Greene. "Expect to see more growth and a whole bunch more double-ues!!"
   Though the team has prevailed with many wins, they also endured some tough losses. The game against the Cedar Park Lady Timberwolves proved to be a difficult one. The Cedar Park defense and offense was strong making them a tough competitor. The game started off with intensity coming from both sides of the court. Through the course of them game the Lady Lions' chemistry and ability to communicate well with each helped them be able to execute decisive ball movement and play an aggressive offense. Though the girls excelled in these areas, the Lady T-Wolves came out on top, scoring 68 points over Leander's 54.
  Other games the team played in were against the Rouse Lady Raiders and the Vista Ridge Lady Rangers, both being to of the main competitors in the district.
   " Usually it's Vista Ridge, but Rouse is currently undefeated and #1 in the district," said Greene.
The girls will continue to practice and keep their head in the game by staying in the gym and in the weight room to keep themselves energized and prepared for game. The team is started their second round of district Friday night, January 17th, against the Marble Falls Lady Mustangs. Come out and show your support for the team in the Leander gym at 7 o'clock this Friday to see them face off against the Rouse Lady Raiders.