Lady Lions push through season to the playoffs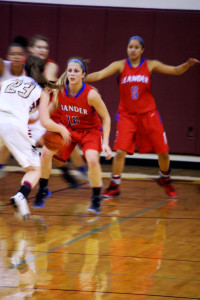 The game against Marble Falls was surprising to say the least. The Lady Lions came out with a ferocity that was quickly trampled by the lady Mustangs' aggressive defensive play. Leander was able to maintain their lead for the first half. In the second half the tables were turned. The Lady Mustangs were able to take the lead, but not for long. In the end the Lady Lions came out on top.
  They were not so fortunate when playing the Cedar Park Lady Timberwolves. The game started off as very close scoring and extremely physical one. The Lady Lions had poor ball movement in the first quarter but turned that aspect of their play around in the second. While the score was still relatively close, Cedar Park began to pull away by the end of the first half. They were able to carry that momentum with them at the start of the second half. There was high energy on and off the court as the Lady Lions fought hard.Sadly the Lady Lions walked away that night defeated.
   The loss didn't discourage them from doing their best against the current number one team in the district, the Rouse Lady Raiders. The Lady Lions were able to execute a beautifully fundamental game. Offensively their passes were decisive and strong, and on defense they were able to successfully shut down the Lady Raider offense. Junior, Carolyn Plein, was a forced to be reckoned with under the basket, securing numerous rebounds to help the team out.
  In the game against the Vista Ridge Lady Rangers, Leander fought a hard fight. From the beginning the game was intense. The Lady Rangers were able to impressively and successfully score. The Lady Lions on the other hand had to work for their points. By then end of the game,  the score was neck and neck. Leander had an incredible comeback due to numerous steals that resulted in baskets. After hoping for overtime, the Lady Rangers scored wit no time left for leander to return. Though it was a loss,  the Lady Lions played a phenomenal.
  For the last district game, Leander hosted the Dripping Springs Lady Tigers. Seeing as it was the last home game, the team participated in honoring their parents and this year's senior players. The best way they honored them was by playing an exceptional game. The girls had a great shooting game and played incredible defense. The girls ended their district season with another win.
 Tonight, the Lady Lions travel to LBJ High School for the first round of the playoffs