Women's History Month Spotlight: Hailey MacKay
March 16, 2016
She steps up to the plate, bat in hand. She clears her mind of all distractions, she's focused. She looks at the pitcher, waiting to hit the ball over the fence.
Senior Hailey MacKay has played softball nearly her entire life. From tee-ball to coach pitch to selective softball to high school. Now, she prepares to go to the University of Arkansas to play softball at the college level.
"Originally when I went to a camp there first I didn't want to go at all, my dad went to school there, and he asked me if I wanted to go to camp, and I said 'no, hillbillies live in Arkansas I don't want to go there at all'" MacKay said. "I think I tried convincing myself that I didn't love it, because if it didn't come around then I didn't want to be disappointed, but I just stayed in contact with them, and it came around and I was just overjoyed. I just get really emotional about it because it means a lot to me, but it was really one of the most exciting times in my life, and it's really cool to get to share it with all of my friends and family."
MacKay will be joining the Arkansas Razorbacks in the SEC conference, which she has said, is one of the most competitive conferences in the nation. 
"
I just get really emotional about it because it means a lot to me, but it was really one of the most exciting times in my life, and it's really cool to get to share it with all of my friends and family.
— Hailey MacKay
"[College is] such a high level, and it's so competitive, and I just I'm really pumped for all of it, I want to go in, and just see what my role can be," she said. "I'm just really excited to play in SEC, because it's the most competitive conference right now, and I know a lot of girls that are going to be in that conference too, and it'd be really funny to play against each other when we're there, but just playing on such a big stage is what I'm most excited about, and just getting to compete there."
MacKay has always loved softball, and she continued to move on up the ranks as she got older.
"I can remember being really little, and I wasn't old enough to play it yet but I kept trying to tell my parents that I wanted to try tee-ball," MacKay said. "My parents never played so they were like 'well alright let's try it' and pretty much ever since then I stuck with tee-ball, and then moved into coach pitch, and then moved into select when I got older."
MacKay went on to play varsity softball for the Lady Lions her freshman year, where she started off as just a hitting role, but went on to play first base as well.
"It was so much fun, and originally I was just hitting, because there was a senior that played first, and then she got hurt in our first tournament, so I took her spot playing in the field, because no one else could play it," she said. "She got better, but the coach just left me at first, so pretty much since then I've been a starter, and sophomore year I moved to third base because we needed someone to fill that hole because Lacey graduated."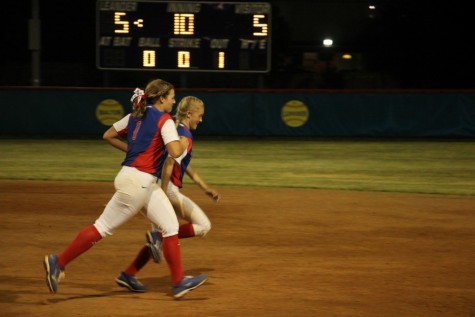 She had tried other sports, and other things in her life, but softball was always going to be her sport.
"It started just as really fun and then when my dad was deployed in the military it was my outlet, and it kept me grounded here, because when he was gone, and we could've moved with him, but we stayed here, and I was really grounded in my team, and it felt comfortable, and I was really passionate about it," she said. "So I just stuck with it, I tried other sports, gymnastics, and dance, but I didn't love it the way I love softball. So I just always stayed with it, and then I wanted to play in college and I just told myself that if it was meant to be it would be. I worked really hard, and the opportunity presented itself."
Her favorite moment in softball comes from time in select softball when her team was undefeated in a tournament.
"[My favorite moment in softball] would be last summer with my select team, and we spent a week in Colorado at a tournament called the Boulder Independent State Tournament and we ended up finishing fifth, but we went on an 11-0 run until we lost on Sunday morning," she said. "We only had to win two more games, but it was just the best week of my life, and it was so fun, and just playing at that level, and with girls like that was really cool."
MacKay's future in softball is unknown, whether it's Fast Pitch or coaching, but she knows that she wants to stay with the sport in anyway possible.
"I think I want to stay in the game for sure, I'd love to go back and coach for the Texas Blaze which is my select team, and just get back to them in the summer, when I'm home from college," MacKay said. "We'll see where the game takes me, but it's hard to say. I know I wanted to stay connected, but I'm not sure how, but I also don't know if I could ever pull myself away from it too."