Best Mums
On Aug 30, mums filled the school in honor of Homecoming.
As you may know, mums are basically just giant corsages that people wear on the day of the homecoming game. It's pretty much only a Texas tradition, which was why I was so confused my freshman year when I moved here from Minnesota. When people would talk about their mums, I thought they were saying "moms," so you can guess how concerned I was when I heard people talk about how they were going to pin their "moms" to their backpacks. Anyway, I digress. Fun fact, mums are often a sign of affection.
In this fun little article we'll be ranking the best mums we can find.
Best Freshman: Sophia Clapp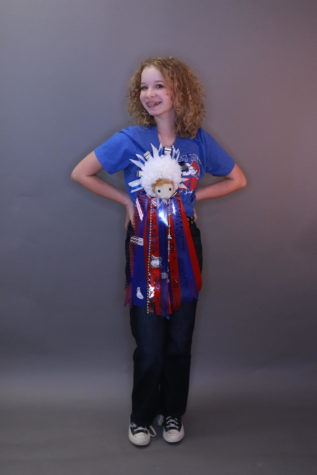 Her mum is so adorable! I love the little lion head, but it's a little disturbing when you think about it from the aspect of "it's literally just the head"? What about the rest of the body? Anyway, the little theater pins are so cute. This was a slay. It was and still is the move.
Best Sophmore: Jozi Heermans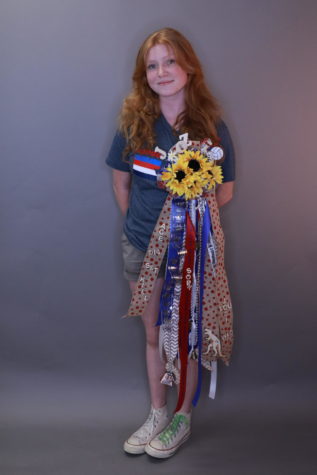 It's so refreshing to see a mum that isn't just a regurgitated take on July 4th or something. The sunflowers are so cute (count how many times I used the word cute in this article). The red polka dot ribbon is to die for. She has a little dinosaur on one of the ribbons, and that automatically gives it a 10/10 (I used to have a huge dinosaur obsession when I was younger, and I've probably watched Jurassic Park about 300 times – hence my love for her little dinosaur). Jozi also put little things about herself, like a volleyball pin and ribbons. It's so fascinating to me when people have things they're actually passionate about. But back to the sunflowers. They're so adorable and they compliment her hair so well. I am obsessed.
Best Junior:Angelina Lim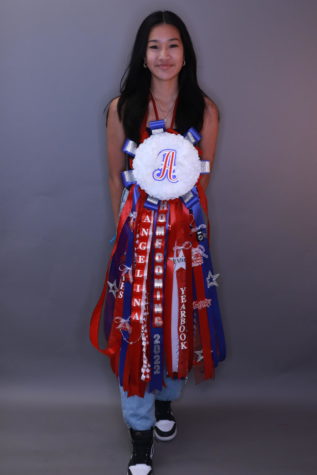 I love the little monogrammed moment on her mum. Sometimes I forget my own name, so, personally, this would be VERY helpful. One of her ribbons is folded all nice and pretty, and I'm just eating up this little origami moment. And the tiny camera? Ahhhh, I'm in love. I don't know if it's just me, but I love mini-things, so I almost passed out from joy when I saw that camera. Angelina's mum is literally giant. I'm genuinely concerned about her neck. I wouldn't be surprised if it were a solid 10 pounds. Overall, this was a solid serve from Angelina.
Best Senior: Cassie Warren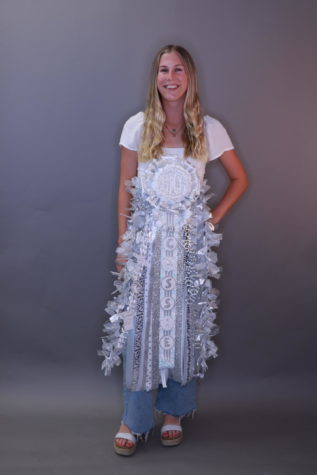 Cassie's mum is giving the Good Witch from the Wizard of Oz, and I am absolutely here for it. Her mum is so bright, I literally have temporary light-induced blindness, but I mean this in the best way possible. She also has a little monogram thing going on, which I love. All the glitter is making me very nervous right now. Imagine trying to get that off of you? Her mum is so perfect, good job!
Best Couple: Junior Alex Rague and Senior Hayden Lucas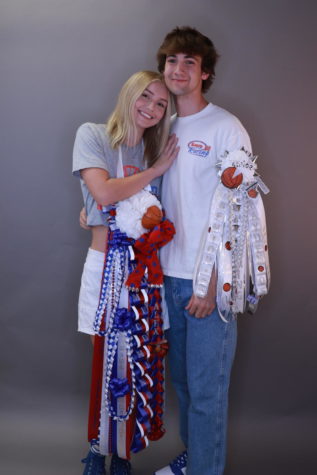 Alex and Hayden's mums are pretty cute. The whole matching basketball thing they got going on makes me want to hole up in my room and cry about how unlovable I am – just kidding. But not really. Anyway, Alex's mum has the prettiest ribbons I have ever seen. Like, again with the origami ribbons– yes! But more than anything, I just want to see her Hobby Lobby receipt.
Best Overall: Abby Ravios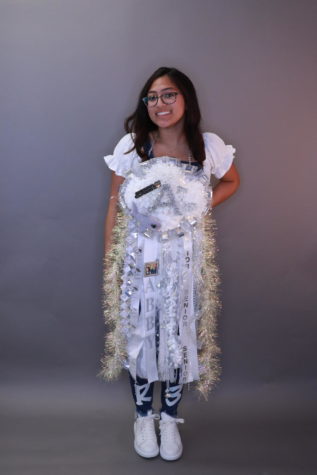 I hate to be quick to make assumptions, but I'm confident that this is the best mum I've seen. Rent was due, and Abby just bought the whole house. I love it. I mean, let's talk about how she has a literal whale stuffed animal with a fake eyelash on her mum. I need to find out who that whale's lash technician is. And the lights? Abby literally put the entire Rockefeller tree on her mum, and thought we wouldn't notice. The little personal mementos throughout her mum are just so sweet. This is revolutionary. It's a moment. And Abby is an icon. The Leonardo Da Vinci of our time, if you will.