Bringing Beauty to Campus
SheAnna Dudley talks about changing appearance and raising confidence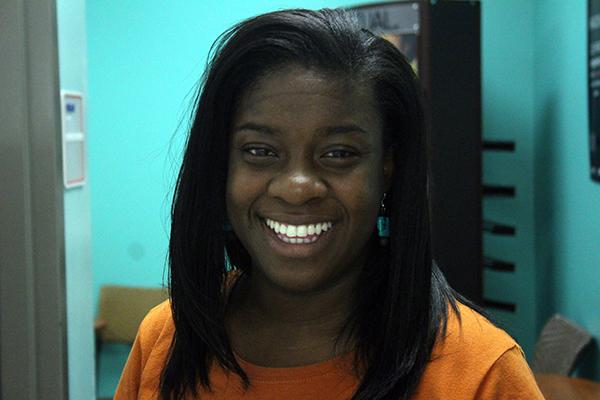 Her scissors fly as she cuts another inch off of the brown mane in front of her. Satisfied with her job, she pulls on her rubber gloves and mixes the hair dye. After carefully applying, she rinses out her client's hair and reveals a new blonde bob. Cosmetologist SheAnna Dudley has just transformed another person's appearance.
"I think cosmetology is important because we have the ability to make someones self esteem rise in a matter of minutes," Dudley said. "I love that you can do someone's hair and change their entire outlook on life."
"
I love that you can do someone's hair and change their entire outlook on life."
— SheAnna Dudley

Dudley moved here from Baldwin Beauty School in Austin. She has been teaching for the past eight years. This is her first year as an educator at the school.
"My favorite thing to teach is probably dying hair," Dudley said. "Really, anything to do with chemical change. I love the way the chemicals interact with and are able to change the hair."
Dudley is the fourth cosmetology teacher to come to LHS in the past sixteen years. This is her first year at the school, and she teaches her students things such as perming, hair dyeing, cutting and general styling. She doesn't generally teach makeup, as she feels her students skills are more than adequate. She hopes to remain at the school until her retirement.
"I want to be here for the next twenty or thirty years," Dudley said. "I tell my students that I'm going to be in a wheelchair and they're going to have to wheel me to the rolling sets."
Dudley first got to meet her students over the summer at cosmetology camp. There, she was able to establish her teaching style with her soon to be pupils.
"I demand communication," Dudley said. "I want to teach [about] the real world. I make my students talk to each other and talk to me."
Dudley wants to see her students graduate, and hopes that they further their hair styling careers.
"I feel like the dedication is greater at Leander," Dudley said. "The student's genuinely want to be here."
About the Contributor
Bri Branscomb, Editor-in-Chief
Hi! My name's Bri Branscomb, and this is my fourth year on staff for The Roar and first year as Editor in Chief. I'm very proud of the material we...