Patiently preparing for PALS
PALS hopefuls wait for results after interviews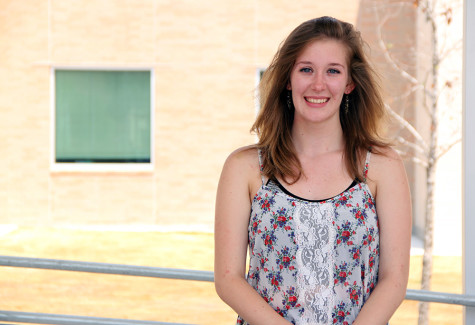 More stories from Aimee Bozoudes
The PALS, Peer Assistant of Leadership Skills, classes have recently finished up their interviews for Pal hopefuls and possibles. After weeks of recommendations from teachers and PALS alike, a number of interviews have taken place throughout the PALS' 1st, 5th and 6th periods. Now, as the inductees are patiently waiting, results are to be decided and sent out before the school year ends.
"I'd like to say that I really appreciate all of the students who came in and their time and energy that they brought to the interview and that we had so much interest this year," advisor and English teacher Anna McNay said. "We had so many applicants and I was really impressed by so many and we are getting through the selection process as quickly as possible and I will let them know as soon as I can."
The process of even getting to the interview process has been described as difficult by McNay. Students are first recommended by a classroom teacher and teachers then put forth the names of students who they think would be a good fit for the program and who follow the right values, activities, and personalities of a PAL. Once recommended, students are then invited to an information meeting to receive a packet and turn it in in time for students to be able to receive an interview. They are then interviewed by two current PALS and hold a brief meeting with McNay. They are then subjected to perform a 'challenge' in front of one of the three PALS classes.
"I'm really really nervous, anxious and a mixture of both," sophomore Kayla Ramirez said. "I'm really excited too because I might get in and even if I don't, that's ok. I had to rap the twinkle twinkle little star song, it went really good actually.  A Lot of people were laughing and cheering and I interpreted that as good and they were just being really friendly."
While only sophomores and juniors are invited to the information meeting, McNay encourages freshmen and those who are not recommended to come as well to become interested and learn what truly happens as a PAL. Results are to be decided after each name has been run through with the AP's and will be up before the end of the school year.
"I hope that they feel comfortable enough with everyone eventually that they can really bring their strengths and unique qualities into the program and be themselves and have a really great time and share what they know," McNay said. "The knowledge and the skills that they develop in PALS I would love for them to spread with their kids that they are mentoring on other campuses and also with their peers here at high school.
About the Contributor
Aimee Bozoudes, Staff Writer
Hey, I'm Aimee and seeing as this is my first and only year on The Roar newspaper staff, I am extremely humbled and excited to interact and write about...