Johnny Costarell recieves a new heart
After 7 months of waiting, the Costarell family had their prayers answered
Johnny Costarell has been waiting for a new heart in Houston with his mother for 7 months. On Tuesday, November 3, the family received the news that a donor heart was available. Johnny went into surgery that day at 9 p.m. He made it out safe and his mother has posted pictures and even a video of his new heart beating in his chest.
"As happy and relieved as I am, I can't help but ache for the parents who had to say goodbye to their son," Mrs. Costarell said. "Organ donation is an incredible miracle of life.​"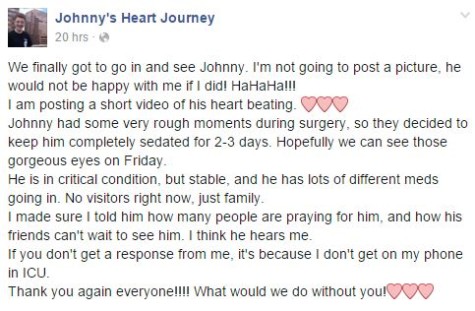 The doctors have decided to keep Johnny sedated until this Friday. His family has thanked everybody, from the Lady Lions to everyone who hasn't taken off their team Johnny shirts, for their support. For more updates on Johnny and his family, check out the facebook page "Johnny's Heart Journey."

About the Contributor
Austin Graham, Assistant Editor
My name is Austin Graham and this is my third year to be on the staff of The Roar and my second year as the Assistant Editor. I love dogs more than anything...