Volleyball hosts annual charity Burger Bash to benefit Costarell family
Local teen needs heart transplant
Tonight the Leander and Cedar Park volleyball teams will be joining forces to host their annual Burger Bash. They host this event in order to raise money for a charity close to their hearts. Each year, the teams trade off who chooses the recipient. This year, Leander chose to raise the money for Johnny's Journey, a charity for former Leander Middle School student Johnny Costarell, son of former LHS receptionist JoAnna Costarell.
Johnny is living in Houston and attending school there while he awaits a heart transplant, a procedure that costs upwards of $1 million in medical and living expenses over the course of treatment.

"We were just at a loss of words," Mrs. Costarell said. "I could not believe the love from Leander High School, that even though I'm not there anymore, that everyone still just cares so much about us. It has brought so much joy because Johnny absolutely misses his home and I miss Leander High School. I love Leander High School; that's my home."

When Johnny was three years old, he had first heart transplant. Every year, he had a biopsy and in March of this year at 13, the doctors discovered severe coronary artery disease. This meant he would need a second heart transplant.

"I was absolutely devastated," Mrs.Costarell said. "It was just a normal annual heart catheterization. They do a biopsy in the heart cath to check his coronary arteries. They were in there and that's when they found his coronary artery diseases and his heart actually stopped for four minutes. That was… awful. From that point, we never came home. He came home to gather his things and was able to say goodbye to some of his friends from Leander Middle School and we were gone."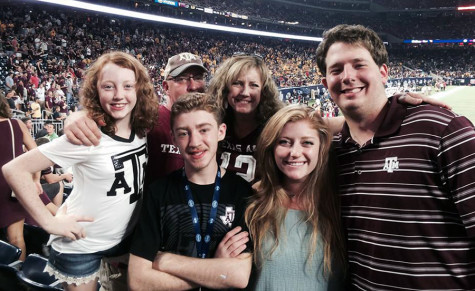 Mrs.Costarell is currently living In Houston with Johnny. They have to stay within one hour of the hospital at all times. Her husband and youngest daughter are still living in Leander away from the rest of their family. The faculty and staff at LHS still have them in their hearts.

"JoAnna has been the 'voice and initial impression' of the LHS for several years," principal's administrative assistant Debbie Patek said. "JoAnna made a point to attend all the football games and band/color guard events. She truly 'bleeds blue'! We all loved her service to all the staff and miss her deeply. She has touched so many lives that we wanted to give back to her, even if it's just a little and to also let her know that she and her family are in our continued thoughts and prayers."

The Burger Bash will be hosted at Leander High School at 5:30. Just $5 will buy a charbroiled burger, chips and a drink. All of the proceeds will go to Johnny and his family.
If you cannot attend the Burger Bash but wish to donate to Johnny's Journey, you can find his account at his gofundme account.
About the Contributor
Austin Graham, Assistant Editor
My name is Austin Graham and this is my third year to be on the staff of The Roar and my second year as the Assistant Editor. I love dogs more than anything...