Running through the mud
Crone and Coe run at State in Round Rock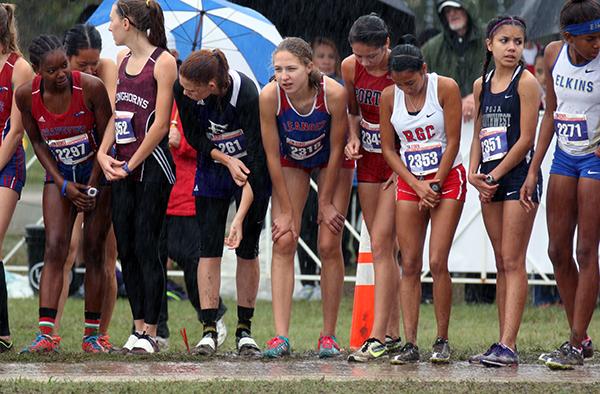 Hang on for a minute...we're trying to find some more stories you might like.
Feet slam down. Mud splatters up. Dirt and water mix to trap sneakers, paint legs, and cover the runners in the evidence of a rainy meet. Senior Claire Crone runs the course, all the while thinking to herself, "Just keep going. Almost there." She thinks of goals that she made for the cross country season, to run at state…but then the thought that crosses her mind over and over as she falls in the the middle of the pack is "Why?"
"I fell twice during the race," Crone said. "But falling wasn't the worst part of the race. The worst part was I couldn't get my footing in the mud. After the race I was mad. Mad at the mud. Mad I didn't do well. Just disappointed."
Forty minutes later, senior Rob Coe lines up at the start. The air suddenly opens up and rain comes pouring down. Just like Crone's race, rain at the start. He's ready for this mud though. His heart rate picks up at the thought of running a muddy course, something new, something he has never done before. 
"
"I was mentally prepared for the mud."
— Rob Coe
In the car, Crone and her parents talk about food. How muddy it was. How slow the race was.  Crone had come in 52nd out of 110 runners and her time was 20:38.
"I kept talking about how I could have done certain things to prepare better for the mud," Crone said. "That week we had tapered mileage and I had done the same training but I just wasn't prepared for the mud."
Rob Coe crosses the finish line, 55th out of 151 runners. His time is 17:47. After the race, he rides home with his parents. He shifts uncomfortably in the seat, covered in mud. But he sleeps contently. 
"
After the race I was mad. Mad at the mud. Mad I didn't do well. Just disappointed."
— Claire Crone
"I was mentally prepared for the mud," Coe said. "I told myself that I just had to get out there and do what I needed to do. I've had a good race this season. It was a super fun race; I've never run a mud race before and I was excited to give it a try. I was tired from the race, but I was happy with how I had done," Coe said. "I had fun, as much fun as I could have. After, me and Claire talked, congratulated each other on making it to state, making it this far."
The cross country racing season is over. Off season, optional practice is starting and the Cross Country banquet has an official date, December 6th. In Janurary, track season will start. Crone and Coe made it clear that they will run, and they have set their sights on the track, where mud isn't a factor, and the only thing in sight is the finish line.