Album Review: Tame Impala's "The Slow Rush"
Kevin Parker does it again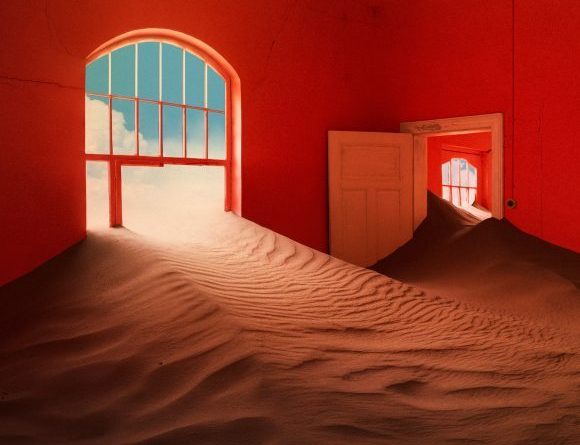 Released on Feb. 14, Tame Impala's fourth studio album titled, "The Slow Rush", perfectly captures what it's like to step inside Kevin Parker's mind. It's an understatement to say that the notion of time haunts him like a relentless ghost. Perfectionism wears the crown in his music-making process. Some may say that's a weakness because it can use up too much time. However, the wait for Parker's creations is undoubtedly worth it. It's been a tedious five years since "Currents" was released, but Parker's finally out of his head and it sounds so good.
On the opening track, the phrase that could translate into hope or death, "one more year" is repeatedly sung, echoed, warped and morphed into a groovy psychedelic dream. "We got a whole year/Fifty-two weeks, seven days each/Four seasons, one reason, one way/One year/One year, one year from today" Parker sings as he leads into the song's climax where revitalizing piano and a funky beat finally blend together with the mesmerizing incessant phrase "one more year".
A theme of making the leap for true love is conveyed throughout "Instant Destiny" when Parker sings, "I'm about to do something crazy, no more delaying/No destiny is too far/We can get a home in Miami, go and get married/Tattoo your name on my arm".
It's difficult to ignore the deafening sound of a heartbreak that's conveyed on "On Track". One of the most painful things in life can be the time period after a setback. The period when you realize that you have to put yourself back together in order to continue on your path with the residue of your failures still clinging on tight. Undoubtedly, Parker has had perhaps multiple roadblocks he's had to maneuver during the writing, singing and producing of this album. The lyrics that can crack through to one's core and hit home: "I let out a breath and hold in a sigh" and "But strictly speaking, I'm still on track/Strictly speaking, I'm holding on/More than a minor setback/But strictly speaking, I'm still on track/And all of my dreams are still in sight/Strictly speaking, I've got my whole life/I lost a wheel a while back/But strictly speaking, I'm still on track".
The overall theme of time makes an even more transparent appearance on "It Might Be Time" as Parker sings of wanting to stay in the past and avoiding confrontation with his future. "All my friends are growing up, and moving on/ I must be missing something/'Cause I just want to keep this dream alive for now/Don't they know?/Nothin' lasts forever".
"Posthumous Forgiveness" is one part rage driven and one part tenderly sentimental as Parker turns back the clock to remember his late father. Two emotions carefully channeled into one song yet still very separate. Like two sides on a coin. The true polarity can be detected in these two sets of lyrics: "To save all of us, you told us both to trust/But now I know you only saved yourself/Did you think I'd never know?/Never wise-up as I grow?" and "Wanna tell you about the time/Wanna tell you about my life/Wanna play you all my songs/And hear your voice sing along".
A disco ball hanging above a dance floor shooting a million slivers of multi-colored kaleidoscopic light all around the room is the only thing missing while listening to "Glimmer". More honorable mentions include, "Tomorrow's Dust" and the closing track, "One More Hour". Parker had a lot to live up to after his most iconic album, "Currents" as it can be difficult to out-do yourself, (especially when one is a perfectionist). Nonetheless, he not only rose to the occasion, but is walking away with flying colors.
Tame Impala will kick off its 2020 North American tour on May 29. Catch Parker all over Texas when he plays at The Frank Erwin Center in Austin on July 23, the American Airlines Center in Dallas on July 24 and the Toyota Center in Houston on July 25. Click here to view Tame Impala's official U.S. website to view all of the tour dates and buy merchandise.