Restaurant Review: Raising Cane's
With over 240 locations spreading across the South and in Kuwait, Raising Cane's chicken fingers is becoming the "go-to" place for anything chicken fingers.
Cane's was founded in 1996 by Todd Graves. He had a vision to open up a chicken finger restaurant, and he did it, but not easily. His idea was constantly turned down and he couldn't get a loan for it. To get enough money to open the restaurant, Graves traveled to Los Angeles and become a boilermaker. After that he moved to Alaska and fished for sockeye salmon. Once he raised the proper funds, he came back to Louisiana to open the first Cane's.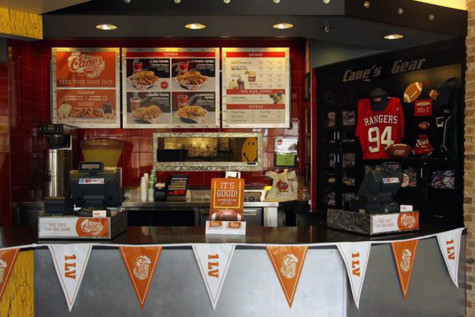 The menu is limited to five options: The Box, The 3 Finger combo, The Caniac, The Kids Combo and The Sandwich Combo. Each combo comes with their One Love chicken fingers, a drink and the special Cane's sauce. The side items are fresh and fluffy Texas Toast, cold coleslaw and crinkle-cut fries. All delicious.

The chicken fingers are tender and crispy. They only use two parts of the chicken, the only two parts that can be qualified as tenders. Their fries are perfectly salted and cooked. The french fries come from the center of the potato which is the juiciest part of the whole potato. The recipe for the sauce is a secret, but has a tangy taste with a little bit of spice. The toast is brilliant. They use a garlic-butter spread and it goes great with the sauce, as does everything else. I personally don't eat the coleslaw, but I'm sure it's good.

"Chicken, chicken, chicken which combo you pickin'?" is a familiar phrase the patrons of Cane's hear anytime they go through the drive-thru. Either that or things like, "It doesn't take a brainiac to order a Caniac!" and "Yo, yo, yo, want some fresh hot chicken to go?" These sayings are part of creating the atmosphere that is Raising Cane's. The crew is chosen not based on skill, but character. They are also trained to be friendly, funny and outgoing with customers to make their experience memorable and satisfying.

This is a fantastic restaurant in all aspects. The crew is friendly and helpful, the food is amazing, but it is slightly pricey. I would recommend anybody who is a fan of fried chicken to go and try out this restaurant. It gets a 4 out of 5 stars.