Girls Basketball Comes Out with a Roar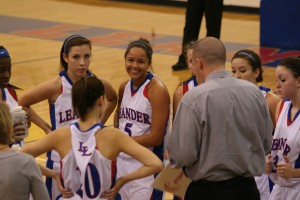 The Lady Lions took their first win at home game against the Round Rock Dragons with a final score of 56-51. The varsity girls went to Corpus this past weekend and won a plaque for Gold consolation. The Lady Lions won a total of 4 games out of 5 out of the entire tournament. Erica Russell was mentioned as All Tournament, which means she was an all-star player throughout the tournament.
"I'm excited [for the season]. I think we have a lot of talent; we are a very versatile team," said Coach Lamb.  The Lady Lions have 6 returning varsity players for the 2012-2013 seasons.
Michelle Madrigal, junior captain, was asked who she is most excited to play against this season she said, "Vista Ridge, I think they're a good team and we have some personal rivalries between their players and ours."  Drea Williams is most excited to play Rouse, "because they talk a big game so that'll be more motivation to dig deep."
The captains are juniors Michelle Madrigal, Dreya Williams, and seniors Jenna Guzetta and Rachel Cofield, agree that they're all excited to play their oldest rival, Cedar Park. They are very confident in their team this year. They have multiple people on the court who can all score in different ways and positions and they consider themselves a very athletic team.
The Lady Lions' next home game will be November 20th against Hendrickson and if you can't wait until them to see them play, they have a tournament this upcoming week, November 15th through Saturday the 16th at Marble Falls.