Lion of the Week: Jadon Kempers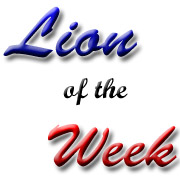 By Cody Zivley
   Jadon Kempers is a senior on the varsity wrestling team who has recentley qualified for the state level wrestling competition to be held Feb. 26-27 at the Austin ISD Delco Center. Last year Kempers was chosen to be a UIL alternate for the team.
Q: What were your first thoughts when you qualified for state?
A: I was happy, because last year I missed going to state by one point.
Q: What college or University are you planning to attend?
A: The University of Oklahoma.
Q: Will you continue to play sports in college?
A: Yes, I want to play football as a preferred walk-on.
Q: Was Oklahoma your first choice?
A: Yes, I had a couple of D-3 schools looking at me but they didn't offer enough.
Q: What do you plan to major in?
A: Buisness.
Q: Was  football or wrestling your first choice as sports to play in college?
A: If football doesnt work out I'll switch to wrestling.
Q: What are you going to miss about high school?
A: Being able to play two sports.
Q: What advice would you give the upcoming freshmen athletes?
A: I'd tell them to work hard no matter what their talent level is because it will show on the field.
Q: Do you prefer football over wrestling?
A: I love both of them equally.
Q: Whats your favourite sports team?
A: Houston Texans.
Q: If today were your last day of high school, what would you tell the freshmen starting their first?
A: Relax and have fun.