Lion of the Week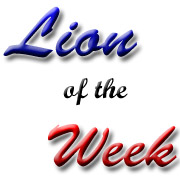 By: Cody Zivley
Glen Crawford has been a part of the Leander High school baseball team for four years, contributing leadership and a great desire to win.
Now in his senior year he has many plans for his future, but what about his baseball career?
Q:  For how long have you been playing baseball?
A:  Around thirteen years.
Q:  Who do you consider to be your biggest supporter?
A:  Both my parents and my little brother have supported me the most.
Q:  Do you plan on continuing your baseball career after high school?
A:  Yeah, either at Concordia or Texas State.
Q:  What quality do you believe you contribute to the team?
A:  Leadership
Q:  Do you play club baseball?
A:  Yeah, for a team called the "Austin Slam".
Q:  Who are you most thankful to your being here right now?
A:  My mom and dad.
Q:  Why?
A:  They pushed me to do my best and work hard.