Lady Lions come out swinging
Lady Lions defeat Georgetown in first district game
To start off district play, the Lady Lions defeated Georgetown 6-4. Seniors Hailey MacKay, Gabby Walton and Kellie Jeanes all scored runs during the game, and MacKay hit three singles.
"I'm super proud of the way we hit throughout the game, and how we didn't let three runs bring us down," MacKay said. "Also, I thought we did a really good job of being productive at bat with runners in scoring position and we didn't leave a lot of people on base which was huge."
Georgetown took the lead in the first inning, getting two runs in process. In the second, Georgetown scored another run, and was in process of scoring again, before MacKay tagged a Georgetown runner out to keep the Lady Eagles from scoring. Then, Jeanes scored a run off of junior Adrienne Ousley's single base hit. This, and another run, brought the gap closer with the Lady Lions down 2-3 at the end of the second inning.
"It is extremely important, you can't win a game without scoring, it's not possible," Jeanes said. "You've got to keep in mind when you go up to bat that your teammate on base did their job to get there. Whether they walked or hit and got on base they did their job, and you have to back them up and do your job as their teammate, and help them score, and from there it keeps going. Of course we can't always score every runner that gets on base, but we all work extremely hard to play our role because overall we're all trying to achieve the same goal and that's scoring."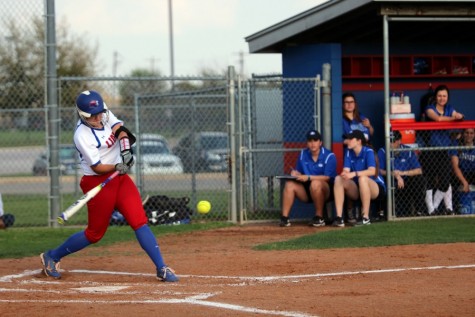 At the beginning of the bottom 3rd inning, MacKay hit a single, but the Lady Lions wouldn't score, leaving the score 2-3. At the beginning of fourth, senior Shannon Dodd stepped in for pitching for the rest of the game. Jeanes hit yet another single, and after a little hesitation was ruled safe. Jeanes then scored another run, her second of the game, to tie the Lady Eagles 3-3. At the bottom fifth, Walton and MacKay hit back to back single to bring runners on first and second. Then, Jeanes hit a double letting both MacKay and Walton score runs to get the Lady Lions in the lead 5-3. Then, Jeanes stole a run to get her third run of the game, and increased the lead 6-3 against the Lady Eagles.
"I believe that I played very well that night, I could feel it from the start of the day that it was going to be a great day," Jeanes said. "With the help of my teammates they kept my attitude positive all the way through the game and lightened the mood with the craziness in the dugout and to see and hear them act like crazies really helps me relax and I believe I play best when I'm relaxed and having a good time."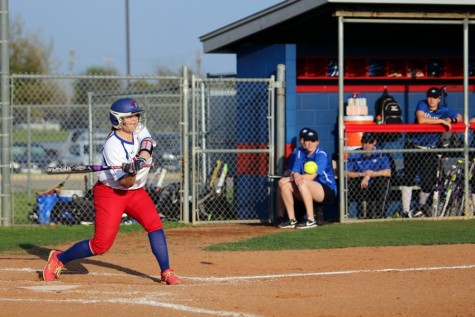 Georgetown scored only one more time in the top of the seventh, but it wasn't enough. The Lady Lions next will travel to Vandegrift this Friday for their second district game.
"We need to hit really well again and play solid defense," MacKay said. "Hopefully the rain will stay away too."
JV softball won against Georgetown 8-6.
"They started off strong until they came back and got two more points and we came back with strong hits", sophomore Emily Walton said.
About the Contributor
Jack Densmore, Editor-in-Chief
Hello, my name is Jack Densmore. If I had the ability to be Liam Neeson for a day I would. Not only has he trained Obi-Wan Kenobi, but also Batman. Also...