On Track to the Regional Round
Relay teams qualify to move on to the next round
Boys and girls track members have qualified to Regionals in San Antonio next week.
On the boys team, senior Michael Epley placed first in Shot Put, sophomore Tate Hancock placed third in Pole Vault; junior Mikael Dawkins placed second in the 200; junior Morgan Sanner placed second in the 300 Hurdles; and the 4×200 team of seniors Tony Alvarez and Martin Nwakamma, and Dawkins and Sanner placed fourth.
"We did a lot of hand off work to get the baton off right, and we just ran a lot during practice," Dawkins said. "I got here last year, so my goal this year is to either make it to state by myself or make it to finals in regionals."
The ladies placed second overall due to their hard work and determination. Senior Erica Lavin placed first in the 200 and fourth in the triple jump and sophomore Sierra Stevenson placed first in pole vault.
In running events, senior Katherine Strubel placed first on the 800 and fifth in the 1600; the 800 meter relay placed third with junior Paige Ellison, senior Sasha Stinson, sophomore Fumi Orekoya and freshman Rayanna Carter; and winning the mile relay and advancing the team point totals from fifth to second place was the team of Carter, Lavin, Orekoya and sophomore Lindsay Spitz.
"It was a lot more intimidating because it's a higher level," Lavin said. "It's really exciting and I hope we can get past regionals, and I feel like we can."
Good luck at regionals, Lions!
You can view more results of track and field events from our area at the link below:
http://www.athletic.net/TrackAndField/School.aspx?SchoolID=4642
Want up-to-the-minute info on track meets while you're in class? You can also follow Mrs. Bode, our Lead AP, on Twitter for updates from the meets:
https://twitter.com/czbode/status/460167536680513536/photo/1
Photo courtesy of Mrs. Cynthia Bode – The Girls 4×4 relay team and Coach Heermans

About the Contributor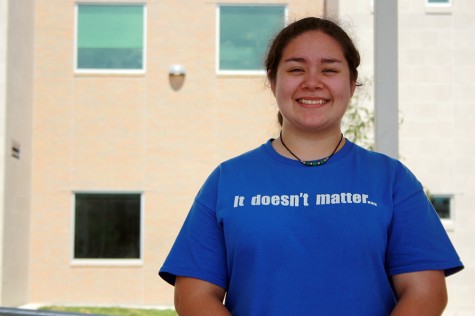 Siandhara Bonnet, Editor-In-Chief
Siandhara Bonnet, Editor-In-Chief, is an ecstatic senior with a full calendar. Along with her passion for Journalism, Siandhara keeps her schedule busy...