"13 Reasons Why" it's problematic
Graphic scenes can cause harm to some
Netflix's original series "13 Reasons Why", based on Jay Asher's eponymous book, has come under fire from parents for their portrayal of mature subjects. The series focuses on the suicide of female high school student Hannah Baker and the multiple cassette tapes detailing why she decided to take her life. Some scenes, especially those depicting suicide and rape, are too graphic for some to watch without negative effects.
The show is rated TV-MA, which means the content may be unsuitable for those under the age of 17. Some parents are unaware their children, under the age of 17, have watched the show, according to Lauren Adbill, author of op-ed piece "There's no reason to buy '13 Reasons Why' imagery".
Many are worried of the message the show is sending to susceptible youth. Author and father Jack VanNoord considered the show "highly problematic" due to the graphic depiction of several scenes, including rape, self-harm, and suicide. Mary Ann O'Rourke, whose son died by suicide, wrote in a letter that the series communicates a "horrible message" for teenagers and young adults in their portrayal of suicide.
The National Association of School Psychologists published an essay on "13 Reasons Why" with their recommendations. In the piece, the organization recommended that vulnerable youth shouldn't watch the series and gave guidance to educators, families, and students for dealing with the series and suicide. The essay highlighted a scene where Baker seeks help from a school counselor to no avail and warned that it didn't "inspire a sense of trust or ability to help".
"
Suicide is a major issue among adolescents. It is the second-leading cause of death on college campuses. This is a serious issue that needs to be addressed seriously.
— Lauren Adbill
In Adbill's op-ed, she critiqued the show for not following the American Association of Suicidology's recommendations for how media should depict suicide. The guidelines include practicing non-sensitization, adding warning signs and guidance, and more.
Executive producer Selena Gomez defended the show, calling it "true to the book." However, reading about graphic events versus watching them on television are very different. In the show, Baker, on camera, slit her wrists. The scene depicted graphic cuts and blood. In the novel, Baker's suicide, where she used unspecified pills, wasn't shown.
The scenes depicted can negatively affect some of those who watch it. The series has a TV-MA rating for a reason, but some may choose to watch it regardless. Netflix has advertised the show broadly across their platform as a Netflix Original series with banner ads and enlarged titles. The rating is obscured next to insignificant data, like the year and number of seasons. Because of this, students may not be aware of the graphicity of the show and the negative effects it can have on their mental health.
If you are in crisis or you know of someone who is, you may want to call the National Suicide Prevention Lifeline at 800-273-8255 or visit suicidepreventionlifeline.org.
About the Writer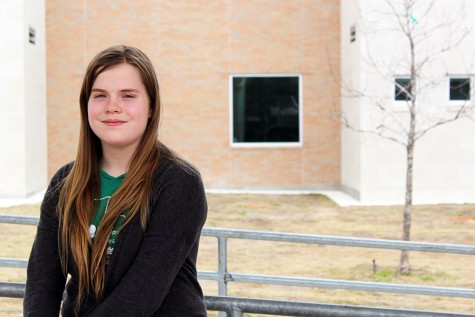 Michelle Parker, Staff Writer
Hi! I'm Michelle Parker, this is my second year on The Roar staff. I'm very excited to see what this year brings us. I have three dogs whom I love and...