Book Club reads 'The Maze Runner'
Gender neutral book was chosen in a hopes for more male members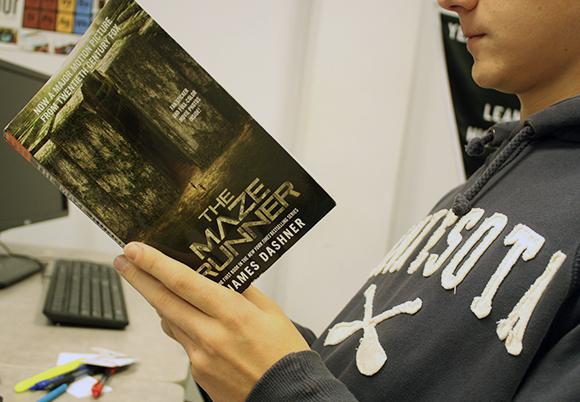 The book club had its first meeting over The Help, the book chosen for the month of October. According to teacher sponsor AVID and English IV teacher Kari Bjerke, the first meeting went well.
"Everyone was very engaged in the discussion," Bjerke said. "It was very successful and we had a great discussion."
Now it is time for a new book of the month and the book club has chosen The Maze Runner. The dystopian book is gender neutral in everyone's eyes and was chosen for its simple to read content as well as its more 'guy-friendly' material junior Melissa Kelly, the club's advertiser officer said.
"This book is gender neutral because we feel that we need more guys," Kelly said. "This book has a really good story and it's not that hard to feed because it is young adult fiction. In our club we have about 20 people, and only 2 of them are guys."
Bjerke said it has been compared to a modern day Lord of the Flies. Kelly is excited to start advertizing it and hopefully, attracting more male members.
"We are making posters to help get the word out," Kelly said. "We will also most likely be doing announcements and spread the word through friends. We will also be tweeting about it on our twitter account @LHSread."
About the Contributor
Gigi Allen, Staff Writer
My name is Gigi, and it's not my real name, just a nickname. My family is a mix of peace loving hippies, non-strict carefree parenting, over-mommying...