LION OF THE WEEK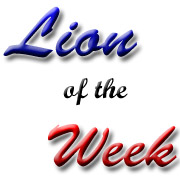 Will Frolick has been a part of the Leander family and the Lion varsity soccer for two years. Now in his senior year and under the supervision of a new coach, he has led the Lions varsity team through many victories.
Q: Do you plan on continuing your soccer career after high school?
A: No.
Q: Then what are your plans for after high school?
A: I'm going to attend Texas Tech.
Q: How long have you been playing soccer?
A: Seven years.
Q: Why?
A: Because it's fun.
Q: What will you miss the most about high school?
A: The soccer team, mostly because of my friends.
Q: What would you say to the upcoming freshman planning to join soccer?
A: I'd tell them to work hard, because you can miss out on many things sitting on the bench.