In the trenches
From pancakes to zone blocks, here's a look at the offensive line
When a football team scores a touchdown, fans go crazy for the quarterback for throwing the ball and the running back for running across the goal line. Some people don't notice five members of the team who contributed to that score – the players known as the offensive line (or O-line).
The varsity offensive line includes seniors Chijioke Eguzo, Spencer Holbrook, Colton Kessler, Justin Lemons, Jacob Potter, Aaron Rodriguez, Chris Ruiz and juniors John Armstrong and Eric Zeno.
"It's normal for people to cheer on the running backs and the quarterbacks the most,"  Potter said. "The linemen are an important part though, and should be more praised."
The center, two guards and two tackles make up the linemen who protect the quarterback and make lanes for runners to score. Without an offensive line doing their job, the quarterbacks wouldn't have anyone to protect him and he could get tackled by the opposing defense.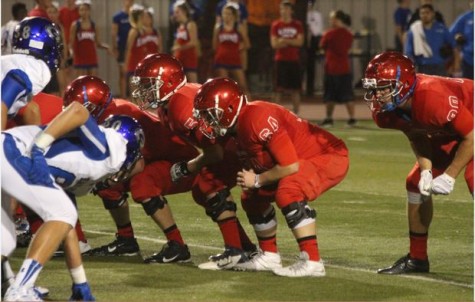 The offensive line prepares for the play against the Georgetown defense.
PC: Dylan Hanna
"The O-Line does deserve more credit," junior quarterback Parker McNeil said. "Without them, I would not be able to hand it off to the running back or have enough time to throw it to an open wide receiver. They have my respect and all of the others on our team."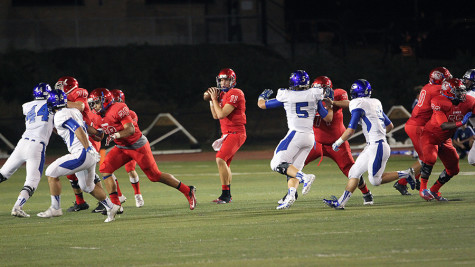 Pass protection by the offensive line allows the quarterback to throw the ball to his receiver. PC: Danielle Bell
The O-line's job is not like that of the quarterbacks or the running backs. Not only do the players need to block the player in front of them, but they must also push them out of the way for a running back to get through.
They risk not only the play, but their health as well. Trainers and doctors see the most head injuries and knee injuries in offensive line players. To protect themselves and limit injuries, players wear special knee guards that help them stay healthy and keep playing.


Knee guards help linemen stabilize their knees to prevent injury. PC: Danielle Bell

"I'm glad that my teammates scores and I know that I contributed to [a score]," sophomore JV Blue left tackle Donny Reeling said. "We all know that we contributed to that touchdown and we all can be happy about that."
Sure, they're not the ones that are scoring a touchdown or running the ball, but without them, many offensive plays would fall apart and touchdowns would be a lot harder to come by.
Support the O-line and the varsity team when they take on the Vandegrift Vipers on Friday, September 25th at 7:30 P.M.
About the Contributor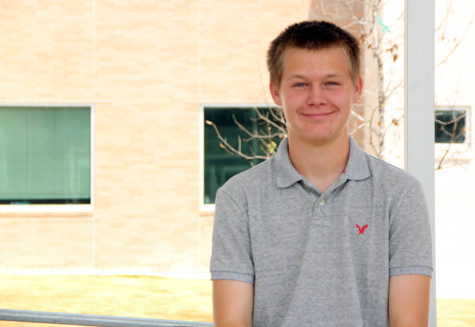 Matthew Grissom, Staff Writer
Guess who's back more ready then ever? Matthew Grissom returns to the Leander High Newspaper staff and plans to publish twice as many stories as last...