Holiday Treat Review: Nothing Bundt Cakes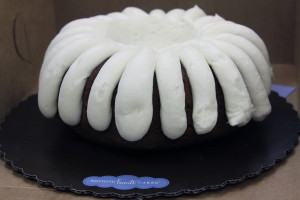 December's flavor of the month is gingerbread at Nothing Bundt Cakes. Nothing Bundt Cakes serves only bundt cakes and bundt cupcakes, known as bundtinis.
The service was great and it felt very warm and friendly inside. I ordered a gingerbread bundt cake that serves 8 to 10 and it cost $18.50. The prices are high with the price ranging from bundtinis at $16.50 to a decorated 10 inch cake that serves 18 peaople at $39.50.
Although the prices are steep it is absolutely worth it on occasion. Anyone with a sweet tooth will gladly devour the cakes. The gingerbread cake was superb and I would pay for it again, just not until another special occasion.
Nothing Bundt cakes is located in 1890 ranch next to the Cedar Park Cinemark.
The address is 1335 E. Whitestone Blvd.#S-170 Cedar Park, TX 78613. The bakery is open Monday through Thursday 11 a.m. to 8 p.m., Friday 11 a.m. to 9 p.m., Saturday 11 a.m. to 8 p.m., and Sunday 11 a.m. to 6 p.m.
You can also order online but it must be at least 24 hours in advance.
Rating: 4 out of 5 star