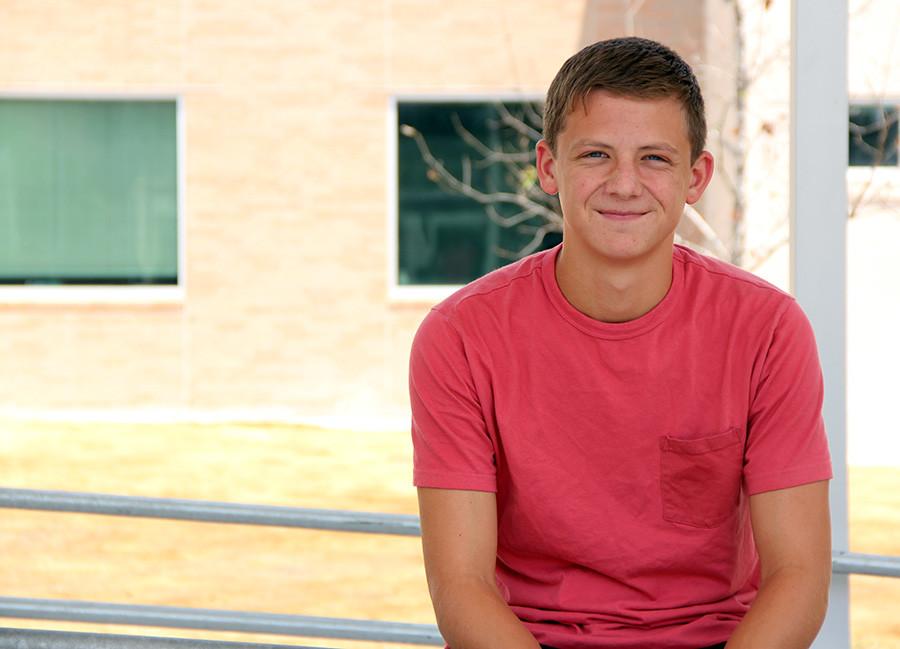 Hi, my name's
Kyle
and I'm a staff writer for the Leander High School Newspaper The Roar. I was born in New Orleans, Louisiana and I moved to Cedar Park when I was 2 and have lived here since.
I play soccer for Lonestar's Academy team so I'm constantly at practice for 10 months and traveling for games in Colorado, Kansas, Florida, Indiana, and all around Texas.
I also love to travel. I've been to 26 different countries the best being Rwanda, Argentina, Spain, Vietnam, and Kenya.
My favorite way to relax is to play ping pong, washers, soccer, or basketball outside with my family and neighbors. My favorite music by far would be country music. I listen to it all the time - my phone is filled with it.
My top 3 vacation moments would be climbing up the walls of a glacier in Argentina, going to an elephant sanctuary in Thailand, and riding camels around the Pyramids of Giza in Egypt.
Kyle Gehman, Assistant Editor
Apr 21, 2018

Testing is coming

(Story)

Mar 06, 2018

Saying goodbye to Pyeongchang

(Story)

Feb 15, 2018

Destination: Ecuador

(Story/Media)

Jan 24, 2018

4,000 words later…

(Story)

Jan 21, 2018

A glance back on 2017

(Story/Media)

Jan 18, 2018

National Slavery and Human Trafficking Month

(Story/Media)

Dec 13, 2017

School systematically kills creativity

(Story/Media)

Dec 13, 2017

Lending a hand to the homeless

(Story/Media)

Nov 27, 2017

Homework > sleep

(Story/Media)

Nov 17, 2017

Saving the best for last

(Story)

Nov 09, 2017

Last away game ends in loss

(Story/Media)

Nov 03, 2017

State champs defeat Lions

(Story/Media)

Oct 26, 2017

Wrangled by the Rebels

(Story/Media)

Oct 25, 2017

Calling all dancers

(Story/Media)

Oct 20, 2017

Hitting it out of the park

(Story)

Oct 16, 2017

Homecoming game ends in defeat

(Story)

Oct 13, 2017

Close game ends in Ranger win

(Story/Media)

Oct 06, 2017

Keep an ear out

(Story/Media)

Sep 28, 2017

Varsity football vs Stony Point

(Story/Media)

Sep 28, 2017

Varsity football vs Pflugerville

(Story/Media)

Sep 28, 2017

Varsity football vs Ellison

(Story/Media)

Sep 25, 2017

Bit by the Tigers

(Story/Media)

Sep 23, 2017

Movie review: IT

(Story/Media)

Sep 20, 2017

Warriors down the Lions

(Story/Media)

Sep 14, 2017

Get the facts straight: DACA

(Story)

Sep 12, 2017

Now is their time

(Story/Media)

Sep 12, 2017

Panthers hand Lions second loss of season

(Story/Media)

Sep 08, 2017

Netflix show review: Narcos Season 3

(Story/Media)

Sep 04, 2017

Lions fall short in season opener

(Story/Media)

Sep 04, 2017

Around the world in 87 days

(Story)

Aug 25, 2017

Eyes on the prize

(Story/Media)

May 19, 2017
May 15, 2017

Album Review: Welcome Home by Zac Brown Band

(Story)

May 15, 2017
May 09, 2017

Album Review: Welcome Home by Zac Brown Band

(Story/Media)

May 01, 2017

Putting in the work

(Story/Media)

Apr 25, 2017

Lady Lions wrap up season

(Story)

Apr 24, 2017

Band releases new marching show

(Story/Media)

Apr 18, 2017

TV Review: Men in Blazers

(Story)

Apr 15, 2017
Apr 12, 2017

Youth and Government team honored at LISD board meeting

(Story/Media)

Apr 12, 2017
Apr 07, 2017

Book Review: The Hiding Place

(Story/Media)

Mar 30, 2017

Over in seconds

(Story/Media)

Mar 24, 2017

Going out on a fight

(Story/Media)

Mar 09, 2017

Travel ban excludes clear logic

(Story)

Mar 07, 2017

Push for the playoffs

(Story/Media)

Mar 03, 2017

Right off the bat

(Media)

Mar 03, 2017

Number one, IB and all

(Story/Media)

Feb 27, 2017

Why I'm Doing IB

(Story/Media)

Feb 21, 2017

Beasts of No Nation Review

(Story)

Feb 17, 2017

Lions fall to Lobos, beat Chaps

(Story/Media)

Feb 17, 2017

The experience of a lifetime

(Story/Media)

Feb 14, 2017

Rising to the top

(Story)

Feb 03, 2017

Thousands march to voice pro-life support

(Story/Media)

Feb 01, 2017

Continuing the legacy

(Story)

Jan 31, 2017

Starting it up

(Story/Media)

Jan 21, 2017

Seniors come out strong

(Media)

Jan 13, 2017

Lions comeback to tie McCallum

(Story/Media)

Jan 13, 2017

The final countdown

(Story/Media)

Jan 11, 2017

Frozen by the Raiders

(Story)

Jan 09, 2017

My 2016 Christmas vacation

(Story/Media)

Jan 09, 2017

Three reasons to do IB

(Story/Media)

Dec 14, 2016

Crutching for cash

(Story/Media)

Dec 13, 2016

Spreading Christmas cheer

(Story/Media)

Dec 11, 2016

Close meet ends with a Lion victory

(Story/Media)

Dec 08, 2016

Movie review: Fantastic Beasts and Where to Find Them

(Media)

Dec 07, 2016

Lions take first in tri-meet

(Story/Media)

Nov 30, 2016

First meet ends with podium placing

(Story/Media)

Nov 30, 2016

Thanksgiving break gallery

(Story/Media)

Nov 28, 2016

Book review: I Am Zlatan

(Story/Media)

Nov 28, 2016
Nov 15, 2016

Senior has bill passed in Youth and Government legislation

(Story/Media)

Nov 14, 2016

Last game ends in disappointment for Lions

(Story/Media)

Nov 11, 2016
Nov 07, 2016

Downed by the Chaps

(Story)

Nov 03, 2016
Nov 03, 2016

Annual dance performance displays LISD talent

(Story/Media)

Nov 01, 2016

Support for a cure

(Story/Media)

Oct 26, 2016

Crushed by Cavaliers

(Story/Media)

Oct 25, 2016

Hitting the books

(Story/Media)

Oct 21, 2016

Making room for Jesus

(Media)

Oct 18, 2016

Entertainment review: House of Torment

(Story)

Oct 17, 2016

Rebels upset Lions at home

(Story/Media)

Oct 16, 2016

Top 5 activities for October

(Story)

Oct 13, 2016

Freshmen football falls against the Vipers

(Media)

Oct 13, 2016

Vipers hand Lions first district loss

(Story)

Oct 12, 2016

Recruiting and serving

(Story/Media)

Oct 12, 2016

Varsity football vs Vandegrift

(Story/Media)

Oct 09, 2016

Awareness for illness

(Story/Media)

Oct 05, 2016

Another win for the freshmen Lions

(Media)

Oct 05, 2016

Rounding up the Rangers

(Story/Media)

Oct 03, 2016

Scoring the touchdown

(Media)

Oct 02, 2016

Band performs in annual Festival of Bands

(Story/Media)

Sep 21, 2016

Lions fall to Tigers in homecoming game

(Story/Media)

Sep 16, 2016

Lions pounce on Warriors

(Story/Media)

Sep 09, 2016

For the love of travel

(Story)

Sep 07, 2016

Scratched by Panthers

(Story/Media)

Sep 06, 2016

Kaepernick protest sparks controversy

(Story)

Sep 02, 2016

Open carry law causes concern for seniors

(Story)

Aug 31, 2016

Lions fall to Eagles in first game

(Story/Media)

Aug 20, 2016

'Metamorphosis' ends

(Story/Media)

Jun 01, 2016

Senior wins first at UIL state

(Story)

May 27, 2016

Entertainment Review: TopGolf

(Story)

May 27, 2016

Contemporary goodbyes

(Media)

May 27, 2016

Students finish history projects

(Story/Media)

May 16, 2016

Exhibit of photojournalism students work

(Story)

May 13, 2016

Football hosts movie night

(Story)

May 04, 2016

Track finishes season at regional

(Story)

May 03, 2016

World Press Freedom Day

(Story)

Apr 28, 2016

Looking ahead

(Story/Media)

Apr 28, 2016

McCall catches the ball

(Media)

Apr 28, 2016

Looking towards region

(Story/Media)

Apr 23, 2016

Learning as a teacher

(Story/Media)

Apr 21, 2016

Publications exceed expectations

(Media)

Apr 21, 2016

Track advances to Area

(Story)

Apr 21, 2016

Ending on a high note

(Media)

Apr 19, 2016

Book Review: Into Thin Air

(Story/Media)

Apr 14, 2016

Party for a purpose

(Story/Media)

Apr 13, 2016
Apr 11, 2016

Local Chick-fil-A closes for remodeling

(Story/Media)

Apr 11, 2016

IB hosts trivia night

(Story/Media)

Apr 08, 2016

We Are Leander

(Story/Media)

Apr 06, 2016

Varsity competes at Texas Relays

(Story)

Apr 06, 2016

A final statement

(Story)

Apr 05, 2016

Now we're stressed out

(Story/Media)

Mar 31, 2016

Soccer's American equality

(Story/Media)

Mar 30, 2016

Track hosts Lion Relays

(Story)

Mar 28, 2016

Varsity Winter Guard wins 3rd

(Story)

Mar 24, 2016

Varsity wins third

(Story)

Mar 23, 2016

Top 5 outdoor spring activities

(Story)

Mar 23, 2016
Mar 21, 2016

Women's History Month Spotlight: Lynn Flesner

(Story)

Mar 15, 2016

Scalia death brings trials into question

(Story)

Mar 10, 2016

Flying past the competition

(Story)

Mar 09, 2016

Brought down by the Patriots, Rangers

(Story)

Mar 08, 2016

Jacob Potter crowned Mane Man

(Story/Media)

Mar 04, 2016

National Day of Unplugging begins

(Story/Media)

Mar 04, 2016
Mar 04, 2016

Downing the Eagles

(Story/Media)

Feb 29, 2016

Reading past the headline

(Media)

Feb 29, 2016

Society shouldn't support decline in reading

(Story)

Feb 29, 2016

Decline in reading

(Story)

Feb 29, 2016
Feb 25, 2016

Varsity Winter Guard wins first place

(Story)

Feb 19, 2016

Five wrestlers qualify for state

(Story)

Feb 17, 2016

Varsity boys' soccer loses to three opponents

(Story/Media)

Feb 12, 2016

Ilina Bozhkova wins sophomore of the year

(Story/Media)

Feb 11, 2016

Wrestling produces two district champs

(Story)

Feb 09, 2016

Lions face Timberwolves, Mustangs

(Story)

Feb 05, 2016

AP classes help students for the future

(Story/Media)

Feb 04, 2016
Feb 03, 2016

Tackling the problem head on

(Story)

Feb 03, 2016

Wrestling downs Cedar Park, Hutto

(Story)

Jan 27, 2016

Musical Review: Anything Goes

(Story)

Jan 22, 2016

Turf vs grass

(Story/Media)

Jan 13, 2016

Open carry law takes effect

(Story)

Jan 13, 2016

FFA hogs the success

(Story/Media)

Jan 11, 2016

Lions wrestle to 7th place at tournament

(Story/Media)

Jan 11, 2016

Varsity ties Rouse in season home opener

(Story/Media)

Jan 08, 2016

Varsity soccer season preview

(Story/Media)

Jan 06, 2016

Wrestling places 5th at Hill Country Invitational

(Story/Media)

Dec 23, 2015

Club sports vs high school sports

(Story)

Dec 16, 2015

Pinning them down

(Story)

Dec 16, 2015

Class Spotlight: Photojournalism

(Story/Media)

Dec 16, 2015

Pinning the opposition

(Story)

Dec 09, 2015

Wrestling team has first meet of the year

(Story)

Dec 08, 2015

Top 5 community Christmas celebrations

(Story)

Dec 02, 2015

Movie Review: Spectre

(Story)

Nov 27, 2015

Book Review: The Berlin Boxing Club

(Story/Media)

Nov 27, 2015

How to not stay in the grey for Black Friday

(Story)

Nov 19, 2015

Restaurant Review: VertsKebap

(Story/Media)

Nov 19, 2015

Tackling the attention

(Story)

Nov 13, 2015

AFJROTC visits Camp Mabry

(Story)

Nov 11, 2015

Flash flooding changes LISD schedule

(Story)

Nov 11, 2015

JV falls short to Dripping Springs

(Story)

Nov 09, 2015

Club Spotlight: Photography Club

(Story/Media)

Nov 05, 2015

IB enforces PRIDE time schedule

(Story/Media)

Oct 31, 2015

Battling the Rangers

(Story/Media)

Oct 29, 2015

The people behind the book

(Story)

Oct 26, 2015

Sweeping the Patriots

(Story/Media)

Oct 25, 2015

Trump, Clinton lead presidential race polls

(Story)

Oct 20, 2015

District hosts College Fair at Vista Ridge

(Story/Media)

Oct 20, 2015

Volleyball sweeps Marble Falls in all matches

(Media)

Oct 18, 2015

JV defeats Marble Falls

(Story)

Oct 13, 2015

JV falls short to Timberwolves

(Story)

Oct 09, 2015

Weekly poem: The Boy

(Media)

Oct 07, 2015

Gaming App Review: Smashy Road: Wanted

(Story/Media)

Oct 05, 2015

World Teachers' Day commemorates teachers around the world

(Story/Media)

Oct 05, 2015

Flashback #3: Ebola scare

(Story/Media)

Oct 01, 2015

State legislature passes law requiring cameras in special ed classrooms

(Story/Media)

Sep 28, 2015

International holiday commemorates peace

(Story/Media)

Sep 25, 2015

Taking on the Vipers

(Story/Media)

Sep 24, 2015

JV football battles against Georgetown

(Story)

Sep 19, 2015
Sep 18, 2015

Flashback #2: Shooting at UT

(Story)

Sep 16, 2015

Red, Blue teams face Rouse

(Story)

Sep 12, 2015

Not your normal school day

(Story)

Sep 12, 2015

PRIDE time changes for students

(Story/Media)

Sep 09, 2015

Stacks on stacks

(Story/Media)

Sep 05, 2015

JV Lions sweep Pflugerville

(Story)

Sep 02, 2015

Flashback #1: End of World War II

(Story)

Aug 31, 2015

JV Lions defeat Killeen

(Story)

Aug 21, 2015

Blue Belles begin new year with 'Metamorphosis'

(Story)