Football boys win the tug war against Team Mansfield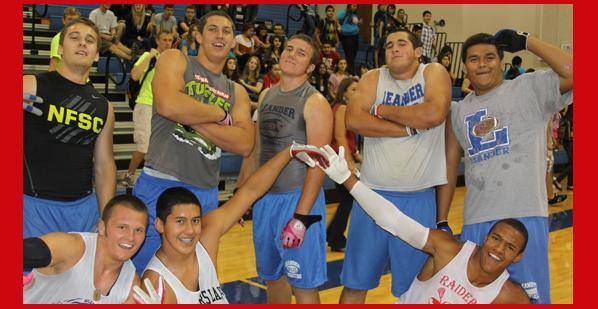 By Sabrina Pratt
   On Wednesday May 2, 2012 our school held a tug of war tournament sponsored by Brad Mansfield, principal, to raise money for project graduation. Students bought tickets for  $1 and got out of their classes thirty minutes early. It was a success!
   Ten different teams participated : football, ROTC, cheer, volleyball, softball, Blue Belles, tennis, swim, Team 1 and the Diamond Dudes; each team had to pay a $20 for admission fee. The stands were filled with students of all grades impatiently waited to cheer on their friends.
   Everyone was glowing with their smiles of enjoyment for a chance of doing something fun during school. The tournament had 16 rounds, and as the teams progressed, they would face Team Manfield, who held the title of undefeated champion.  Team Mansfield was made up of coaches and teachers.
   Everyone was anxious to see who would go against the principal's team. From the cheer team all the way to the Team Football, the football boys ended up going against Team Mansfield. The crowd was definitely pulling for Team Football.
   It was a tough one; they were at a tie. They had one minute for each round and each team was struggling for the championship. At the last possible second, Team Football pulled their hardest, and although they didn't make it past the line, it was closer to their side than Mansfield's side.
   The referee called Team Football the champions! The crowed was thrilled! The football team's hard work paid off! They earned the reward of delicious breakfast tacos for the next morning and bragging rights of being the best team.