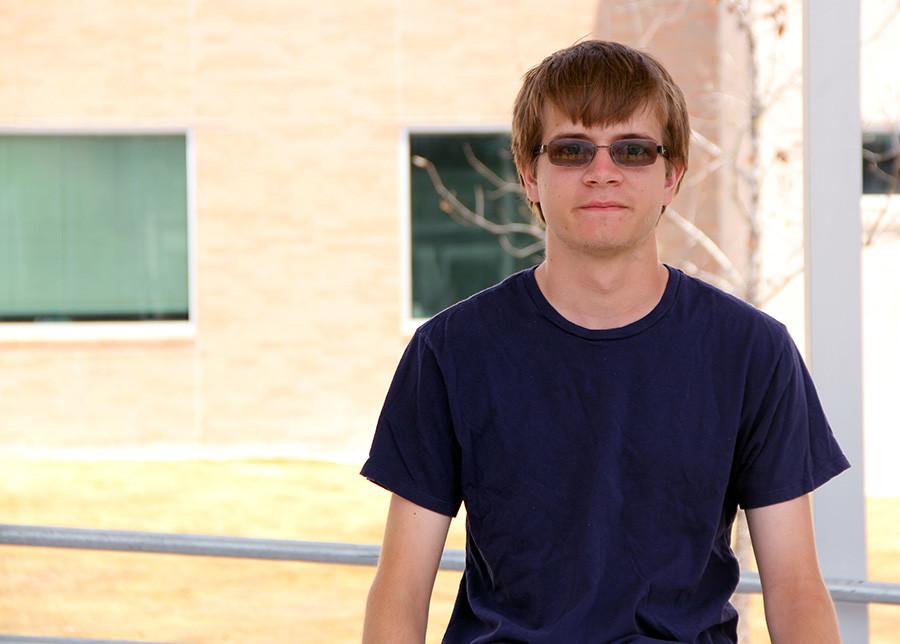 Hello all you people staring into the bright screens of your computer late at night, my name is Garrett Gage, also known as Agent G from the hit new webseries The Fountain. I use organized chaos, everything is everywhere but I can easily find what I'm looking for. For the most part.
If I somehow had a movie made after me, my dream actor to be me would be Nicolas Cage, forever and always. One important thing I've learned is that you are more often than not going to fail on your first try, and that's okay.
A character I most connect with would have to be Junpei Irori from Persona 3. He's a guy who cracks jokes for the most part and has a gigantic love for video games, but he can be serious when needed. Honestly, I'm most happy when I make people laugh which is why I always try my hardest to be funny even when at times it doesn't pan out.
Garrett Gage, Staff Writer
May 31, 2016

Band Banquet digs into the awards

(Story/Media)

May 27, 2016

Alumni give out tips to graduating students

(Story)

May 27, 2016

Newspaper seniors say goodbye

(Story)

May 18, 2016

Video Game Review: Hyper Light Drifter

(Story/Media)

May 11, 2016

Top 10 Twilight Zone episodes

(Story)

May 10, 2016

Uber, Lyft to use fingerprint checks for drivers

(Story)

May 10, 2016

Superintendent Bret Champion resigns

(Story)

May 04, 2016

Around the world in a lifetime

(Story/Media)

Apr 26, 2016

Celebrate spring with these two parks

(Story/Media)

Apr 19, 2016

Juniors and seniors prepare for ACT testing

(Story/Media)

Apr 19, 2016

Bands earns 1st Division at UIL Concert & Sightreading

(Story/Media)

Apr 13, 2016

Contract could put end to graffiti in Austin

(Story/Media)

Apr 07, 2016

Tennis finishes season with two placements in tournament

(Story/Media)

Apr 07, 2016

Mental health crisis center goes under construction

(Story)

Apr 06, 2016

How to make a better lipdub

(Story)

Apr 01, 2016

UT creates blueprint to help victims of sexual assault

(Story)

Mar 23, 2016

Women's History Month Spotlight: Jaida Simental

(Story/Media)

Mar 17, 2016

Band students compete in Solo and Ensemble

(Story/Media)

Mar 13, 2016

Seniors prepare to take TSI

(Story/Media)

Mar 08, 2016

Tennis team gets two doubles victories

(Story)

Mar 08, 2016

Pentagon hires approved hackers to test cyber security

(Story)

Mar 03, 2016

Tennis boys' doubles dominates tournament at Westwood

(Story/Media)

Feb 27, 2016

Top 10 bizzare inventions

(Story)

Feb 25, 2016

Tennis loses hard fought game against Killeen

(Story)

Feb 24, 2016

Study shows people will have more phones than water in 2020

(Story/Media)

Feb 20, 2016

Rumors spread of channels delaying shows to air on Netflix, Hulu

(Story)

Feb 15, 2016

New viral outbreak causes concern in the country

(Story)

Feb 12, 2016

Bad pickup lines, just in time for Valentine's Day

(Story)

Feb 06, 2016

Tennis faces loss, place well in tournament

(Story)

Feb 05, 2016

Three band students qualify for All-State Band

(Story)

Jan 28, 2016

A man who runs "Ford"ward

(Story/Media)

Jan 17, 2016

Civil war era themed ball brings controversy

(Story)

Jan 16, 2016

Lions send Vikings back to their ship

(Story)

Jan 13, 2016

New hoodie surfaces on kickstarter with an interesting hook

(Story/Media)

Jan 13, 2016

Top 8 personal picks of 2015

(Story/Media)

Jan 11, 2016

A sense of urgency

(Story/Media)

Dec 24, 2015

Movie Review: Star Wars Holiday Special

(Story)

Dec 23, 2015

Movie Review: Santa Claus Conquers the Martians

(Story)

Dec 20, 2015

Trail of lights brings up controversy with paid tickets this year

(Story)

Dec 16, 2015

Blue Santa helps kids in need

(Story/Media)

Dec 16, 2015

Band celebrates annual winter concert

(Story/Media)

Dec 11, 2015

The Fountain ends season two with marathon

(Story)

Dec 02, 2015

Movie Review: Spectre

(Story)

Nov 19, 2015

Texas makes statement about Syrian refugees following Paris attacks

(Story)

Nov 16, 2015

Drum majors play major roles

(Story)

Nov 15, 2015

Starbucks' new cup design creates controversy

(Story/Media)

Nov 15, 2015

Golf has loss, win for last tournaments of fall season

(Story)

Nov 09, 2015

Video Game Review: Shovel Knight: Plague of Shadows

(Story/Media)

Nov 09, 2015

PTSA Clothes Closet helps kids in need

(Story/Media)

Nov 03, 2015

Jump scares, how the majority isn't frightening

(Story/Media)

Oct 30, 2015

Top 10 scary monsters

(Story)

Oct 25, 2015

Golf faces two losses

(Story)

Oct 14, 2015

Tennis loses fight against Eagles & Tigers, eliminated from district

(Story/Media)

Oct 12, 2015

Meet the new band director

(Story/Media)

Oct 06, 2015

Tennis faces off against Timberwolves, Patriots

(Story/Media)

Oct 01, 2015

Band brings home the gold

(Story)

Sep 29, 2015

Video Game Review: Shin Megami Tensei: Nocturne

(Story/Media)

Sep 25, 2015

Tennis fights through three games

(Story)

Sep 21, 2015

Festival of Bands showcases the best of the district

(Story)

Sep 20, 2015

New rule on PDA brings mixed reactions

(Story/Media)

Sep 17, 2015

Tennis battles through three games

(Story)

Sep 15, 2015

Lions fall short to Vista Ridge

(Story)

Sep 10, 2015

Lions fall short against McNeil

(Story)

Sep 04, 2015

The Jefferson Memorial statue, or how overly sensitive we've become

(Story)

Aug 31, 2015

Lions lose challenging game to Taylor

(Story)

Aug 27, 2015

Tennis falls short against Round Rock

(Story)

Aug 18, 2015

Band program prepares for new year, new show

(Story)